Arthur Fleischmann Museum – why visit?
– It's small – an entrance hall and just two rooms – conveniently situated in a 16th century  Renaissance building, once  owned by  his  family, in the center of the Bratislava Old Town. The admission ticket is just 3 Euro.  All you need is to walk one minute from the Main Square to the Biela street and climb 15 wooden stairs to get on the 1st floor, where the  museum is located. This unique place is also an excellent choice during your day trip from Vienna, or your day trip from Budapest.
– Arthur Fleischmann (1896-1990) was a fascinating man and sculptor, who worked in a wide variety of media and whose work reflected the many places he lived– Central Europe, South Africa, Bali, Australia, and finally England, where he married and stayed for the last 40 years of his life.
– This is the only museum in the world dedicated to his work. Ceramics, wood, wax, marble, fiberglass, resin, bronze – and Perspex/Plexiglass. He even designed and made furniture and jewelry.
– On the ground floor of the same building there is  "The Oldest shop in the Museum" crammed with authentic  local  food and wine, as well as souvenir items, one of  Bratislava  points  of  interest. Taste our  local  specialty  Bratislava sweet rolls with  poppy seed filling  or  walnut filling. You will be able to get traditional Slovak cheese, such  as  bryndza (fermented  soft  sheep cheese) or oštiepok (smoked sheep cheese). Wine offer is wide, wines made from wine grapes, including Tokaj wine from Slovakia, but also  wine made from red and black currants, another local specialty.
– Just 3 minutes walk  from Fleischmann museum and the same admission ticket also get you into another small and quirky museum in Bratislava  city center – birthplace  of the composer Johann Hummel, friend of Beethoven, on Klobučnícka street. Both museums belong to the City museums, established 150 years ago (www.muzeum.bratislava.sk/en/).
About Arthur Fleischmann
– Born into a Jewish family in Bratislava – then  part of the  Austro-Hungarian  Empire  (former name  Pressburg) – Fleischmann studied at the Evangelical Lyceum in Bratislava and then became a physician first at the insistence of his merchant father. He inherited  artistic  genes from his painter mother  and studied art  in Prague  at the same time that  he attended medical school in Budapest and later in Prague. In addition to his medical practice as a dermatologist in Vienna, he worked as the technical and art director of Nike, a famous Viennese ceramic factory. Most of his works from the 1930s are glazed ceramic pieces.
– As  anti-Jewish  regulations  increased in pre-WWII Europe, Fleischmann, as  a doctor  for  the  Vienna ice hockey team,  left for South Africa (1937) and then  Bali, where he converted  to  Catholicism.  In 1939,  he escaped  from  Bali  before the Japanese invaded  and  sought refuge in Australia, where  he remained  for ten  years.  He was a founding  member of  the  Merioola Artists Commune. Wanting to return to Europe, but seeing the Soviet grip on Czechoslovakia tighten following WWII, Fleischmann then moved to London, where he  soon met  Cecile Joy, the woman who became his wife, and where  he settled  permanently. He died just 4 months after the collapse of the socialism in Czechoslovakia (1948 to 1989) and he could not visit his free homeland since he left.
Most of the works from Fleischmann's English period portray famous people and religious themes, including busts of four popes.
Now let's look at some of Fleischmann's work:
[General view of the second room of the Museum]
[Head of the famous Vienna actress, Julia Jansen, 1930]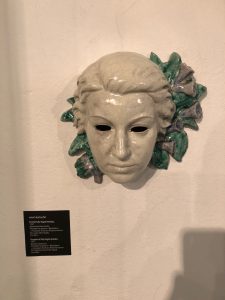 [mask of Lilly Sigall, 1937]
Arthur Fleischmann made the mask of the beautiful hostess Lilly Sigall during her honeymoon trip on the same steamer to South Africa. Sixty years later on a party in London Cecile Joy Fleischmann met Lilly Sigall. After the party Lilly Sigall donated her the mask.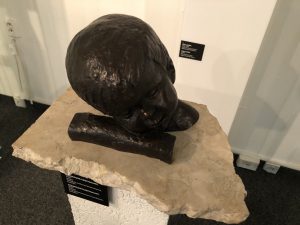 [The Mask of Dominique – the only son of Arthur Fleischmann, 1962]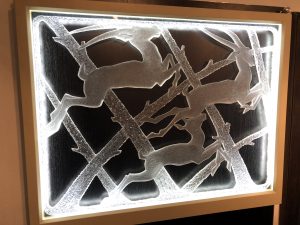 [Hochhauser Coffee Table – wood and Plexiglass/Perspex, 1960s]
Wooden coffee table with perspex top, the only piece of furniture in the museum originally made for his close friend and admirer, Mr. Hochhauser. They were friends since WWI  military service.